Sex & Relationships Policy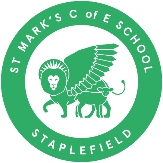 St Mark's CE Primary School
Relationships, Sex and Health Education (RSHE) Policy
Approval Date: Summer 23
Review Date: Summer 25
Head Teacher: Laura Kelsey
Chair of Governors: Denise Harbour
Together

in God's love

we will shine.

We will provide a secure and happy learning environment where everyone is valued

In partnership with the home, the Church and our local community, we will foster a lifelong love of learning

We will become thoughtful, responsible citizens in the Global community

We believe that every child is an individual with equal rights to our care, time and attention

We nurture and support each other on our journey of discovery, knowledge and faith

We will create an environment in which everyone learns that he/she is made in the image of God

We will develop joyous learners with high self-esteem

We will encourage a natural curiosity and excitement for learning

Through creative, challenging and personalised teaching and learning, each child will achieve.
Relationships, Sex and Health Education (RSHE) Policy
Aims
At St Mark's CE Primary School, we believe that Relationships, Sex and Health Education (RSHE) helps to give pupils the knowledge, skills and understanding they need to lead confident, healthy, independent lives, in order to become informed, active and responsible citizens. Under the new guidance issued by the DfE, by September 2020, Relationships Education and Health Education at primary school will be compulsory. The Sex Education elements are not statutory however, as this is covered within the Science Curriculum, we believe that it is important that it is embedded within RSHE programme. RSHE enhances and is enhanced by learning related to topics including anti-bullying; keeping safe on and off line; keeping physically and mentally healthy, learning about drugs, alcohol and tobacco; and the development of skills and attributes such as communication skills, managing peer pressure, risk management, resilience and decision making.
The aims of RSHE at St Marks are to:
Promote the spiritual, moral, cultural, mental and physical development of all pupils
Prepare pupils for the opportunities, responsibilities and experiences of later life
Encourage pupils to value themselves and others
Allow pupils to acknowledge and appreciate difference and diversity
Teach pupils how to make informed choices
Prepare pupils to be positive and active members of a democratic society
Teach pupils to understand what constitutes a safe and healthy lifestyle
Provide a framework in which sensitive discussions can take place
Promote safety in forming and maintaining relationships
Provide pupils with a toolkit for understanding and managing their emotions
Provide pupils with the opportunities to consider issues which may affect their own lives and/or the lives of others
Help pupils to identify the characteristics of healthy relationships, how relationships may affect mental and physical health; and how to stay safe online
Prepare pupils for puberty, and give them an understanding of sexual development and the importance of health and hygiene
Help pupils develop feelings of self-respect, confidence and empathy
Create a positive culture around issues of sexuality and relationships
Teach pupils the correct vocabulary to describe themselves and their bodies
Statutory requirements
At St Marks CE Primary School, we teach RSHE as set out in this policy. The Department for Education is introducing compulsory Relationships Education for primary pupils and Relationships and Sex Education (RSE) for secondary pupils from September 2020. Also, from September 2020, it will be compulsory for all schools to teach Health Education. Through these subjects, we want to support all young people to be happy, healthy and safe – we want to equip them for adult life and to make a positive contribution to society. At St Marks, we have committed to retain our current choice to continue to teach age-appropriate Sex Education alongside Relationships Education. In doing so, we have regard to guidance issued by the Secretary of State as outlined in Section 403 of the Education Act 1996.
Definitions
RSHE is part of lifelong learning about the emotional, social and physical aspects of growing up, relationships, human sexuality and sexual health. RSHE aims to give children and young people essential skills for building positive, enjoyable, respectful and non-exploitative relationships and the skills to stay safe both on- and off-line. It enables pupils to explore their own and other's attitudes and values and builds their self-esteem and confidence to view their own sexuality positively. RSHE is not about the promotion of sexual activity.
Relationships education (statutory)
Primary Relationships education is learning about the physical, social, legal and emotional aspects of human relationships including friendships, family life and relationships with other children and adults. Relationships education supports children to be safe, happy and healthy in their interactions with others now and in the future.
Sex Education (non-statutory)
Sex education is learning about the physical, social, legal and emotional aspects of human sexuality and behaviour, including human reproduction. This includes conception and contraception, safer sex, sexually transmitted infections and sexual health. This last definition covers both primary and secondary. At St Marks, we will not cover all these aspects of Sex Education although they may come up in class discussions. We will cover conception, pregnancy and birth where appropriate.
Policy Development
This policy has been developed in consultation with staff, pupils and parents. The consultation and policy development process involved the following steps:
Pupil consultation – we investigated what exactly pupils want from their RSHE lessons via a pupil focus group and questionnaire.
Review – a member of staff coordinated national and local guidance and built the curriculum in accordance to West Sussex's Education 4 Safeguarding Programme.
Staff consultation –the policy was shared, reviewed and amended by school staff.
Parent consultation – the policy was shared with Parents and amended according to the feedback received.
Ratification – the policy was shared with and reviewed and approved by the full Governing Body.
Our RSHE Curriculum
RSHE will replace the previous personal, social and health (PSHE) curriculum and will incorporate some biological aspects of the sex education currently taught within the science curriculum.
RSHE will be provided through a combination of:
Discrete curriculum time
Teaching through and in other subjects/curriculum areas
Enrichment activities and school events
School assemblies
Family and Relationships

Reception

Year 1

Year 2

Year 3

Year 4

Year 5

Year 6

• Work and play cooperatively and take turns with others.

• Introduction to RSE

• What is family?

• Introduction to RSE

• Families offer stability and love

• Families are all different

• Introduction to RSE

• Healthy families

• Introduction to RSE

• Families in the wider world

• Introduction to RSE

• Family life

• Introduction to RSE

• Respect

• Form positive attachments to adults and friendships with peers.

• What are friendships?

• Making friends

• Friendship problems

• Managing friendships

• Unhappy friendships

• Friendships - conflict

• Effective communication

• Healthy friendships

• My behaviour

• Bullying

• Build a friend

• Resolving conflict

• Bullying

• Developing respectful relationships

• Stereotypes

• Bullying

• Show sensitivity to their own and to others' needs.

• Healthy friendships

• Family and friends help and support each other

• Valuing me

• Manners & courtesy

• Loss and change

• Learning who to trust

• Respecting differences

• Stereotyping

• Stereotypes

• Respect & manners

• Loss and change

• Respecting myself

• Being me

• Loss and change
St. Mark's RSHE Skills Progression Reception – Yr6
RSHE lessons are categorised into five key areas; Family and Relationships, Health and Wellbeing, Safety and the changing body, Citizenship and Economic Wellbeing. Year 6 also have a further key area: Identity.
Health and Wellbeing

Reception

Year 1

Year 2

Year 3

Year 4

Year 5

Year 6

• Be confident to try new activities and show independence, resilience and perseverance

in the face of challenge.

Experiencing different emotions

Taking responsibility for my feelings

• What can I be?

• Show an understanding of their own feelings and those of others, and begin to regulate their behaviour accordingly;

• Mindfulness

• Taking responsibility for my health

• Resilience toolkit

• Manage their own basic hygiene and

personal needs, including dressing, going to the toilet and understanding the importance of healthy food choices.

People who help us stay healthy

Hand washing & personal hygiene

• Immunisation

• Health concerns

• Creating habits

• The effects of technology on health
Safety and the changing body

Reception

Year 1

Year 2

Year 3

Year 4

Year 5

Year 6

• Getting lost

• Making a call to the emergency services

• Safety at home

• The Internet

• Communicating online

• Communicating safely online

• Online safety

• Fake emails

• Online restrictions

• Share aware

• Consuming information online

• Online friendships

• Identifying online dangers

• Critical digital consumers

• Social media

• Asking for help

• Appropriate contact

• People who help to keep us safe

• Secrets and surprises

• Appropriate contact

• Basic first aid

• Basic first aid

• Privacy and secrecy

• First aid

• First aid

• Understand how to be a safe pedestrian

• Medication

• Road safety

• Drug education

• Keeping safe out and about

• Drugs, alcohol & tobacco

• The changing adolescent body (puberty)

• The changing adolescent body (puberty, including menstruation)

• Drug education

• The changing adolescent body (puberty, conception, birth)

• Drugs alcohol & tobacco
Citizenship

Reception

Year 1

Year 2

Year 3

Year 4

Year 5

Year 6

• Explain the reasons for rules, know right

from wrong and try to behave accordingly.

Responsibility

for others: Animals

•The needs of others

Responsibility

beyond school

Responsibility

Rights and responsibilities

Responsibility

Caring for the environment

Responsibility

Rights and responsibilities

Responsibility

Food choices and the environment

for others

• Give focused attention to what the teacher says, responding appropriately even when engaged in an activity, and show an ability to follow instructions involving several ideas or

actions.

Community

Community

Job roles in our local community

yet different:

local community

Community

Community

groups

communities

Community

to the community

Community

Prejudice and discrimination

• Set and work towards simple goals, being able to wait for what they want and control their immediate impulses when appropriate.

Democracy

Democracy

Democracy

Democracy

Democracy

Democracy
Economic wellbeing

Reception

Year 1

Year 2

Year 3

Year 4

Year 5

Year 6

Money

Banks and building societies

Money

Money

spending affects others

Money

Spending choices/ value for money

after money

Money

Money

Career and aspirations

Career and aspirations

Career and aspirations

Career and aspirations

Influences on career choices

• Jobs for me

Career and aspirations

Stereotypes in the workplace

Career and aspirations
As of Summer 2023, St Marks will be following a scheme of work from Kapow.
RSHE will be delivered using a range of teaching and learning methods:
Teaching will start from and build upon the children's current knowledge, understanding, skills, language, experience, concerns and interests. Starting points may be determined through diagnostic activities and discussion.
Wherever possible, contexts for learning should be relevant to the children and make use of actual situations and current issues.
Lessons to embed a high degree of active participation by children, and active learning techniques will be used.
Organisation and management in the classroom should offer children opportunities for working individually and collaboratively in pairs and groups.
We believe that RSHE should meet the needs of all pupils, whatever their developing sexuality or identity – this should include age-appropriate teaching about different types of relationships in the context of the law. Pupils should receive teaching on LGBT relationships, which are delivered at St Marks for example, through teaching about different types of family, including those with same sex parents.
Dealing with Questions during Sex Education
Clear boundaries for questioning are established and ground rules set as to what is appropriate and inappropriate. Whilst personal questions will not be answered, teachers are ready to deal with questions on relationships and sexuality, naturally and honestly, as and when they arise. If a teacher is asked a question that is too explicit, is age inappropriate or raises questions about sexual abuse, then it will be acknowledged with a promise to attend to it later, on an individual basis. If a question is raised that alerts a member of staff that a child is at risk of sexual abuse, school child protection procedures will be followed.
Dealing with sensitive and controversial issued
Sensitive and controversial issues, such as sex, drugs, racism, religion and politics, are certain to arise in RSHE teaching. The exploration of these issues will touch deeply held beliefs and values and may provoke strong feelings. Part of the purpose of RSHE is to enable children to address sensitive and controversial issues directly in a balanced way and in a safe environment. The Education Act 1996 aims to ensure that children are not presented by their teachers with only one side of political or controversial issues. Teachers will take all reasonably practical steps to ensure that, where political or controversial issues are brought to pupils' attention, they are offered a balanced presentation with due regard being given to opposing views.
Confidentiality
In the context of RSHE, children sometimes make personal disclosures. Children must be made aware that it is necessary for the school to act upon certain disclosures that they may make, for instance in relation to activities that are illegal or harmful to themselves or others. 'Ground-rules' will be set by Class Teachers to clarify boundaries before tackling any sensitive or controversial issue. Where there is a 'disclosure', the member of staff should discuss the matter with the Head Teacher.
Pupils with SEND
As far as is appropriate, pupils with Special Educational Needs and Disabilities (SEND) follow the same RSHE education programme as all other students. Careful consideration is given concerning the level of differentiation needed, and in some cases the content or delivery will have to be adapted. Teachers and/or Teaching Assistants should work with individual pupils where required, and if appropriate. Pupils with SEND will not be withdrawn from RSHE education to catch up on other national curriculum subjects: we believe these aspects of personal and social development are as important to all pupils as well as their academic achievement.
Pupils
Pupils are expected to engage fully in RSHE and treat others with respect and sensitivity during discussions and activities.
Roles and Responsibilities
The governing body will approve the RSHE policy and hold the Head Teacher to account for its implementation. The Head Teacher is responsible for ensuring that RSHE is taught consistently across the school, and for managing requests to withdraw pupils from components of RSHE.
Staff
Staff are responsible for:
· Delivering RSHE in a sensitive way
· Modelling positive attitudes to RSHE
· Monitoring progress
· Responding to the needs of all pupils
· Responding appropriately to pupils whose parents wish them to be withdrawn from the [non statutory/non-science] components of RSHE
· Staff do not have the right to opt out of teaching RSHE. Staff who have concerns about teaching RSHE are encouraged to discuss this with the Head Teacher.
Parents' Right to Withdraw
As a school, we understand that the primary role in children's relationships and sex education lies with parents and carers. We wish to build a positive and supportive relationship with the parents and carers of the pupils at our school through mutual understanding, trust and co-operation. In promoting this objective, we:
• Make available online, via the school's website, this RSHE policy and the curriculum overview
• Answer any questions that parents may have about the RSHE education of their child;
• Take seriously any issue that parents raise with teachers or governors about this policy or the arrangements for RSHE in the school;
• Inform parents about the best practice known regarding RSHE, so that the teaching in school supports the key messages that parents and carers give to children at home.
We believe that, through this mutual exchange of knowledge and information, children will benefit from being given consistent messages about their changing body and their increasing responsibilities.
Parents/Carers are not able to withdraw their child from Relationships Education in primary school or secondary school as the contents of these subjects – such as family, friendship, safety (including online safety) – are important for all children to be taught.
Parents are able to withdraw their child from primary school classes which address Sex Education - i.e. those that do not sit within the Relationships Education curriculum. Maintained primary schools are required to teach National Curriculum Science, which includes some elements of Sex Education. Parents do not have a right to withdraw from this.
Parents will be notified in advance of the start of the Sex Education phase of teaching. If a parent wishes their child to be withdrawn from the Sex Education elements of RSHE, they should discuss this with the Head Teacher, and make it clear which aspects of the programme they do not wish their child to participate in. Parents should be aware that schools are legally required to provide a broad, balanced curriculum. Sex Education topics can arise incidentally and overlap with Relationships Education lessons and it is not possible to withdraw pupils from these relatively limited and often unplanned discussions. Requests for withdrawal should be put in writing and addressed to the Head Teacher. A copy of withdrawal requests will be placed in the pupil's educational record. The Head Teacher will discuss the request with parents and take appropriate action. Alternative work will be given to pupils who are withdrawn from these lessons.
Training
Staff are trained on the delivery of RSHE as part of their induction and it is included in our continuing professional development calendar. On occasion, visitors from outside the school, such as school nurses or sexual health professionals, may be invited into the school to provide support and training to staff teaching RSE.
Monitoring Arrangements
The delivery of RSHE is monitored by the RSHE Subject Leader through lesson observations, learning walks, feedback from staff and children. Pupils' development in RSHE is monitored by class teachers as part of our internal assessment systems.